Foreign Language OE Modules
OE modules are optional, free and have no impact on your Grade Point Average.
OE modules are not General Studies Modules - the former does not replace the latter.

For each language, a total of 180 module hours are planned to spread across 4 semesters.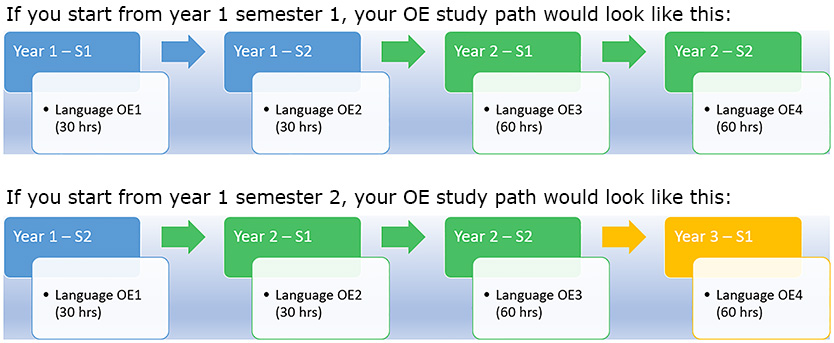 There are no prerequisites for OE1 foreign language modules (Click here for the synopsis of the OE1 modules). To advance to the subsequent levels, however, a student must have pass in the previous module (in compliance with the module prerequisite), and a GPA of 2.0 or above.
Students are strongly encouraged to complete the four levels, although it is not compulsory.
Successul completion of all the four levels will enable you to sit for an external examination (if you choose to do so) in the respective language:


French: Diplome d'etudes en langue française A1
German: Start Deutsch A1
Japanese: Japanese Language Proficiency Test N5
Korean: Test of Proficiency in Korean Level 1

If you pass the exam, you will be awarded an internationally recognised certificate!