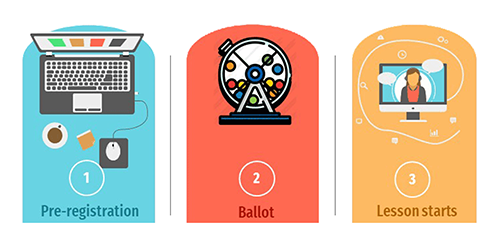 What is OE pre-registeration?


As optional electives, foreign language OE modules adopt a registration process consisting of the following steps:
Pre-registration: Eligible NYP students indicate their interest by selecting the language of their choice.
Balloting: Where class vacancies are in short supply, a computer balloting will be conducted to ensure a fair allocation.
Official registration: Successful applicants will be registered in the system by their respective schools to the OE modules of their choice.
When do I pre-register?
 
Pre-registration opens on Monday, 26 September 2022, 1000 hrs
Pre-registration closes on Wednesday, 5 October 2022, 1200 hrs
Where do I register?


Students are to submit their application online using the MS Form as follows: OE Level 1 Pre-registration Form.
Once logged in, you can follow the menu instructions to select the OE module and timetable slot.

Each student is allowed to submit the pre-registration form ONCE with the choice of a single OE module. 
Repeated submissions will render the application void. 
Should you, for some valid reason, need to change your pre-registration information after the submission, you may contact our staff-in-charge.
How do I know if my application is successful?


Applicants will receive an email by the end of Week 1 notifying them if their application is successful or not.
When will I start the first lesson?


All Foreign Language OE modules will start the first lesson in Week 2. For weekly timetable details, go to the Module Timetable page.